The latest edition of the FEDMA Legal Fact Pack is a comprehensive information pack containing essential facts on Data-Driven Marketing legislations in major European countries, including EU Member States, the UK, Switzerland, Turkey and countries outside of Europe. It comprises country factsheets providing information on data protection regulations and B2B and B2C marketing legislation, as well as references to existing Robinson lists and preference services. The study is a vital source for all Data-Driven Marketing practitioners to plan their marketing campaigns in European markets.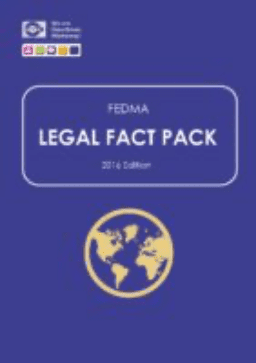 HOW CAN YOU BUY IT?
If you need any further information on this new publication, or where to buy it, do not hesitate to contact us.
In more details, each country factsheet includes the following:
Marketing rules for B2B and B2C for Direct mail, email, telemarketing, SMS, Fax and rules for cookies consent.

Information on notice and privacy policies.

Preference services and Robinson lists.

Reference to data protection and electronic communication legislations, contact of the Data Protection Authority.
Information on registration of databases, legal grounds for processing personal data, legal definition of consent, data subjects' rights.

Rules for international data transfer.

Rules on sales promotion.

Contact details of the local Direct Marketing Association and reference to existing self-regulation codes of conduct.