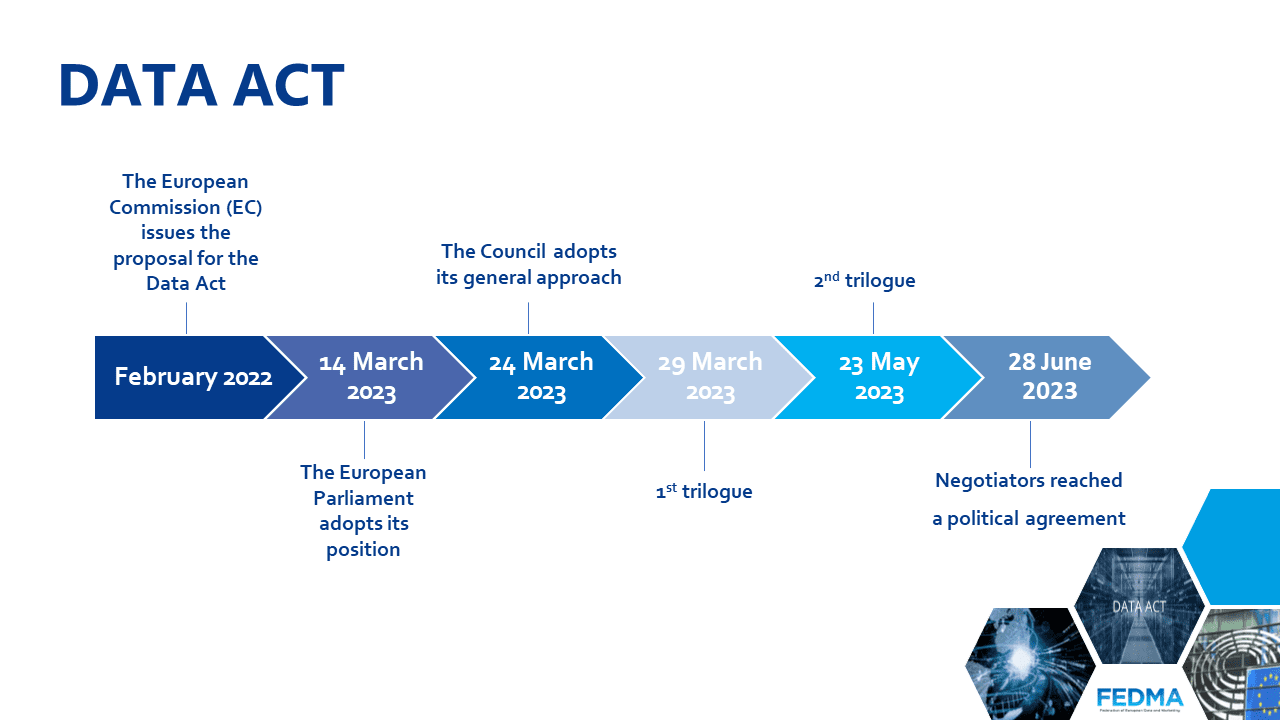 LATEST NEWS
On 28 June, the EU institutions reached a political agreement on the proposed Regulation for a Data Act, first tabled by the European Commission in February 2022. As a reminder, the Data Act will (i) establish rules governing the sharing of data generated through the use of connected products or related services (e.g. the Internet of Things, industrial machinery), (ii) allow users to access and share the data they generate, (iii) enable public sector bodies to access and use data held by the private sector, and (iv) facilitate switching among different cloud services.
Though the political agreement has not yet been published, it is unlikely that it will significantly deviate from the latest compromise text which dates 20 June. In this regard, among the provisions relevant to FEDMA, the latest text:
narrowed the conditions for public sector bodies to access private sector data
expanded the scope of "related services" of connected products subject to the obligations of the Data Act
prevented third parties from carrying out profiling activities of users' data beyond the service requested by the user
preserved the exclusion of gatekeeper platforms as eligible third parties to obtain user's data
Overall, both business and consumer associations voiced criticism on the final agreement, lamenting the excessive fast pace of the negotiations with little opportunity for external feedback. In terms of next steps, the political agreement is now subject to formal approval by the European Parliament and the Council. Once adopted, the Data Act will enter into force on the 20th day following its publication in the Official Journal. The Data Act will have a transition period of 20 months after the entry into force.
FEDMA's news on the Data Act