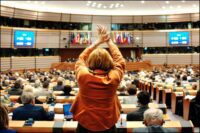 FEDMA Article – After the publication by Member of the European Parliament Marju Lauristin of her draft report composed of 135 amendments to the  European Commission's proposal for a  ePrivacy Regulation, MEPs of the civil liberties committee (LIBE) have propose an additional 688 amendments, leading to a total of 827 amendments in the LIBE committee to be assessment by MEP Lauristin and her shadow rapporteurs after the summer break.
Article 16 on unsolicited communication and direct marketing triggered interest from some MEPs who proposed amendment to extend the existing soft opt in for email marketing. MEPs from the Socialist, Greens and Liberal parties suggested to require telemarketer to use a common prefix number for all telemarketing calls while MEPs from the EPP and ECR groups suggested to delete this proposal. Some amendments are also suggesting to strengthen the rules of BtoB marketing, or suggesting the creation of national do not call registers.
On the question of cookies, MEPs have shown divergent opinions through their many amendments to article 8. MEPs from the EPP group have proposed amendment aimed to improve the proposal's alignment with the General Data Protection Regulation (GDPR), in particular by creating  alternative to the user's consent for marketers to process data from a user's device. MEPs from other group such as the S&D, and the Greens have proposed amendments centered on the user's consent for any sort of processing and access. On the issue of cookie wall, the same opposition appears between MEPs following the approach of MEP Lauristin, suggesting that website cannot block access to users who have refused to consent, and MEPs defending the ability for website to decide the conditions under which they provide their services.
The rapporteur and shadow rapporteur will assess these amendments and work on compromised amendments after the summer break. The objective of MEP Lauristin was to have a text adopted in the LIBE committee and the plenary session of the European Parliament in October.  However, the LIBE committee must also await the opinions from three other committees, responsible of legal affairs (JURI), Internal market and consumer protection (IMCO) and Industry research and energy (ITRE). Together, these committees have received over a thousand amendments, which also have to be assessment. Additionally, MEP Marju Lauristin is standing in local elections in Estonia and is likely to leave her MEP position in the Fall. MEP Birgit Sippel, a German MEP from the Socialists and Democrats party, the same political group as MEP Lauristin has been named to replace MEP Lauristin.
FEDMA Team.