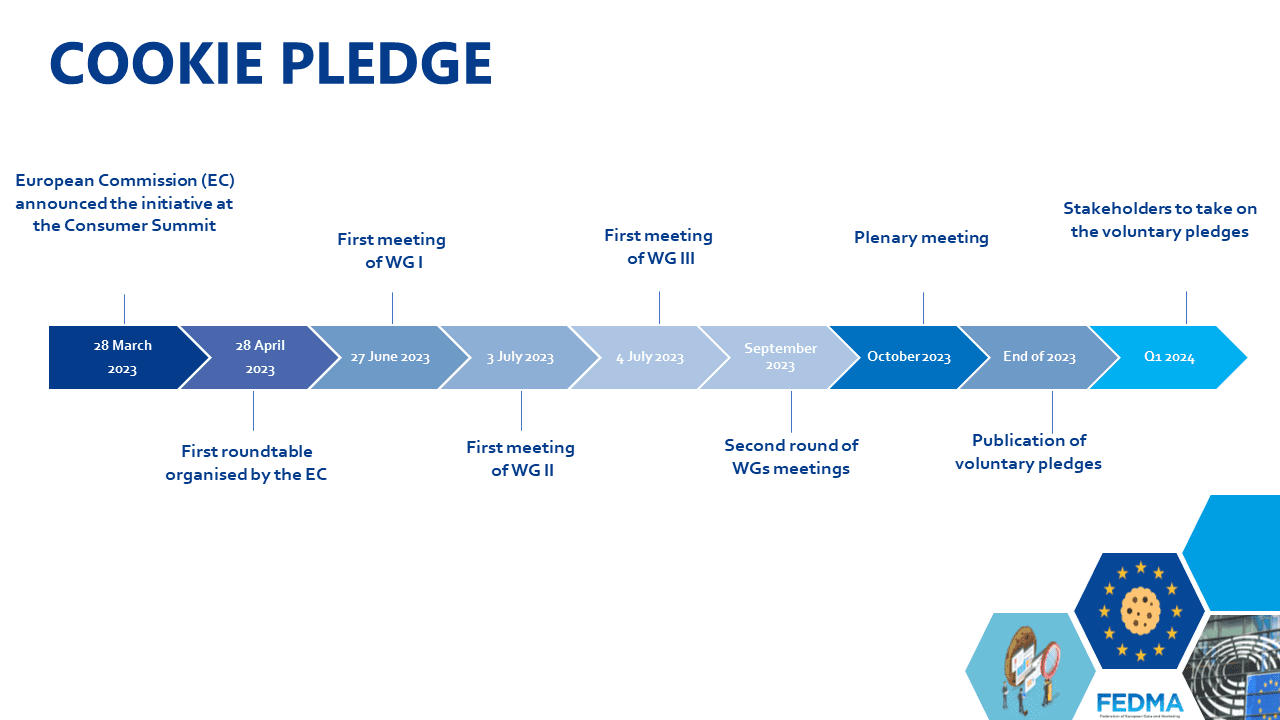 LATEST NEWS
In the first week of July, FEDMA took part in the meetings of the three Working Groups (WGs) set up by the European Commission under the new initiative for a Cookie Pledge.
WG I - Presentation of information on business models
During the meeting of the first WG, the Commission announced the appointment of an external contractor to carry out a behavioral study to identify and test different options for presenting consumers with information about a website's business model. It remains unclear how to provide such information without exacerbating the current information overload.
WG II - Alternatives to tracking based advertising
Given the Commission's expressed preference for contextual advertising, many stakeholders raised concerns during the meeting about the viability of this advertising model in terms of ROI. In parallel, the Commission called for more evidence about the use of advertising based on Privacy Enhancing Technologies (PETs) as consumer-friendly solution.
WG III - Technical solutions for automated management of consumer choices
Despite the ongoing development of possible automated solutions such as Google's Privacy Sandbox or NOYB's Advanced Data Protection Control, the meeting of the third WG highlighted significant hurdles from a technical, competition and legal perspective. Several questions were raised during the meeting, including how to ensure that publishers communicate directly with users while avoiding information overload and consent fatigue, and whether an automated solution can guarantee sufficient granularity for consent in line with legal requirements without causing information overload or consent fatigue.
Next steps
The European Commission still aims to finalise the Pledge by the end of the year and present it officially at an event at the end of November or early December. In the meantime, stakeholders are invited to comment on the draft pledges and provide possible solutions in line with the objective of each WG.
FEDMA's news on the cookie pledge initiative
SHARE WITH FEDMA
good examples of website banners to inform consumers on a website's business model and its use of personal data under
information (if applicable) on their use of PETs, how they inform their users about the use of PETs, and the added-value for marketing purposes
This is the 1st item

This is the 2nd item